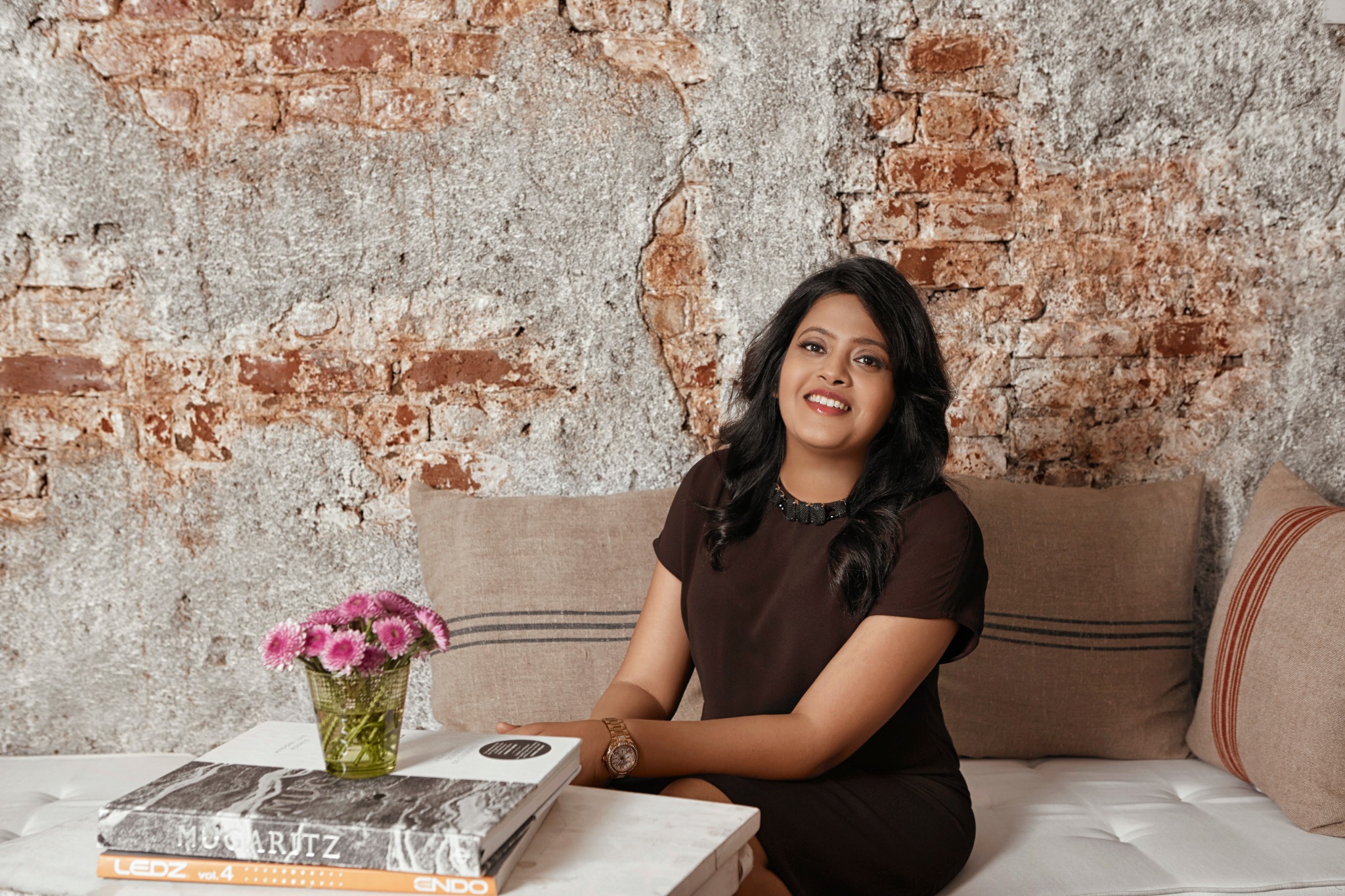 Hello! Welcome to my little corner of the internet. 
I'm Sampada - a Business & Career Transition Coach. 
I'm an introvert, a devout bookworm and a country music lover. 
My friends argue that I'm an extrovert as I'm enthusiastic and love talking to people.
The truth is I'll always choose to read a good book over going out to party. (Actually, I'll choose anything over going out to party).
MARKETING & MAD MEN 
Over 20 years ago with a master's degree in business administration (marketing) from NMIMS, I started my career in advertising. 
My longest stint in advertising was at Lowe Lintas - one of the finest and largest agencies in India.
I learnt the ropes of the business working on the best Unilever and Johnson & Johnson brands. 
In my stint of close to 12 years at Lowe Lintas I moved across functions. From media planning, account planning, account management to business development.
While at the agency, I was selected for a coveted deputation to Johnson & Johnson as a senior product manager on various Johnson's Baby brands. 
I returned to the agency a few years later to create and lead the Business Development division. In my tenure, I led the agency to achieve its highest ever new business growth in several decades.
I loved the energy of agency life. 
Filled with creativity, enthusiasm and ambition to solve communication problems, it was a space that fostered professional growth.
An eclectic mix of creative souls, deep thinkers and inspiring business leaders made it a fun and cherished work experience.
Conversations around food, culture, music, film, science, politics, history made it more interesting. 
Travelling to meet consumers from homemakers, young adults to retailers enriched the experience.

I learnt a ton about marketing, communication and business. 
Yet the hustle culture of working long hours and absurd deadlines didn't sit well with my sensitive soul. 
Exhausting work, chasing deadlines didn't feel inspiring any longer.
The inability to say no and keep grinding didn't seem sustainable. Not something I wanted to do for the years ahead.
SIDE HUSTLES & COMEDY
After working in advertising for close to  1.5 decades, I quit corporate life to set up my coaching practice.
Months before I quit corporate work, I enrolled in an improvisational comedy class as a distraction from work.
Comedy helped bring the much-needed lightness to my career situation - as I worked to transition from corporate. 
I could see there was something fundamentally wrong with our work culture. It was neither nourishing nor sustainable.
I longed for creative freedom and sovereignty to create something I cared for. Work that made me excited about helping people. Corporate life didn't make space for that, even though it offered so much up until now. 
I learnt the ropes of my new work and trained at Barb Wade Coaching. I studied entrepreneurship with SP Jain's Start Your Business programme. I took up part-time consulting jobs and shaped my coaching practice on the side. 
I coached several people who longed for creative work that allowed for self-expression. 
I worked with art directors, graphic designers, photographers & lawyers.
And writers, digital entrepreneurs, journalists and business heads of companies.
I helped professionals transition to careers of choice. 
Careers such as gourmet chefs, stylists and art therapists. 
I helped others revive their businesses or move to fulfilling jobs. 
In the next few years, I progressed from improvisational comedy to stand up comedy. What started as a hobby led me to find my passion for public speaking. 
Performing comedy made me incredibly comfortable on stage. 
I began conducting workshops at coworking spaces. I helped professionals design vision boards, get clarity on their dream business and manage time better.
While I'd left corporate life, I still kept the hustle, push and grind mentality with me.
I noticed this unhealthy aspect of corporate life was dominant in entrepreneurship too.
I worked long hours, without breaks and on holidays. I made little space for rest, relaxation and fun.
We live in a culture that glorifies and rewards hustling and grinding. 
Working on weekends and vacations is not odd.
Our work culture shames us for taking breaks, labels us lazy if we choose to rest and replenish. 
It perpetuates the lie that we'll be more productive if we work every minute of the day.  
This is deeply ingrained in our psyche. If we choose to go slow, take a break, work fewer hours in a day - we feel we're no good. We don't measure up to what our culture has set up as the standard for success.
So we work long hours, caffeinate ourselves to chase deadlines at the cost of our health.

DISMANTLING HUSTLE & GRIND 
I began taking small steps to slow down. 
It was counterculture hence challenging at the start. 
I thought I wasn't doing enough and that I'd be left behind. 
I redefined what success meant to me. 
Success to me was having the creative freedom to do work that mattered to me. Work that made space for slowing down, resting and replenishing. Working in a way that was nourishing, sustainable and brought joy to me and those I worked with. 
It helped to be part of a community of business owners who were de-hustling their businesses too.
I studied the history of hustle at work and its roots in capitalism and patriarchy. I learnt the ropes to de-hustle. 
In time I began to experience a few benefits of slowing down and making space in my work.
I was able to show up fresh at work v/s exhausted. I was able to focus better, made fewer mistakes and took less time to finish tasks. 
I felt tuned in to my intuition, got new ideas, found better solutions and made wiser decisions. The content I created from a well-rested and relaxed place had better engagement. 
That way I required fewer hours of work and I accomplished more while working in a way that felt nourishing. 
Get my best content to de-hustle & create nourishing work, into your inbox. Sign up here. 
Over several years I've managed to wean myself off the hustle and grind culture. It does stealthily creep up at times, but now I'm better at managing it.
COUNTERCULTURE & VIRTUAL GLOBAL COMMUNITIES
In a work culture that expects you to be holed up in a concrete office all day, going for a walk is part of my work routine. It's the time to get new content ideas. 
Walking delivers out of the box solutions to challenges and sticky situations too. Don't get these sitting at my desk. The health benefits are a bonus. 
Listening to soulful music and educational Podcasts are a balm to my introverted soul and keep the learning quotient high. Bundling them up with exercise makes efficient use of a workday. 
Working in communities is such a boon. 
I spend a part of my workday on virtual coworking platforms that team me up with a coworker for a joint working session. This ensures I'm focused, take breaks and meet interesting people from across the globe.
For several years I'd been a part of a small yet powerful mastermind with two business buddies, from Australia and Mauritius. We met online once a month. We supported and encouraged each other on our business journeys and growth. We shared insights, knowledge and held each other accountable.
It's not only the kind of work we do but also how we do it that matters. 
Taking the grind off our work can be a tough task since we're challenging the norm. 
Yet by taking small steps we can begin to make our work nourishing and sustainable. We can create a path for others to walk on - a path that's compassionate and reasonable.
Are you looking for a change in your career or working in a way that's nourishing and sustainable? 
You can write to me for a consultation at  sampada@sampadachaudhari.in 

Know more about me on LinkedIn

Want to know how you can create work that makes you happy?